If you've been to a chiropractor before and prefer to be adjusted in a particular way or want a specific therapy, please let us know. We want you to relax, enjoy and fully benefit from all the treatment you receive in our clinic. The following is an ALPHABETICAL order list of some of the techniques.
---

Activator Instrument
We use one of the most popular "low force" chiropractic techniques in the world.
First the Evaluation
We begin by analyzing how well your spine moves. We test how well you turn and bend. While you're lying face down, we'll evaluate the length of your legs. This simple procedure can reveal significant differences in leg lengths.
This time-tested protocol tells us if vertebral subluxation complexes exist and their location. It also helps us know when to adjust and when not to adjust.
The Adjusting Instrument
The Activator Methods® Adjusting Instrument is a handheld spring-loaded tool that delivers a consistent low-force, high-speed thrust.
Because it's many times faster than adjustments delivered by hand, the body rarely tightens to resist, making adjustments comfortable and effective. It's also helpful for adjusting elbows, wrists, knees and other joints of the body.
The Follow Up
After your adjustment, we retest to make sure changes have been produced. Testing afterwards helps us deliver high-quality care and high levels of patient satisfaction.
---
Applied Kinesiology
Applied Kinesiology (AK) is a system that evaluates structural, chemical and mental aspects of health using manual muscle testing combined with other standard methods of diagnosis. AK, a non-invasive system of evaluating body function that is unique in the healing arts, has become a dynamic movement in health care in its relatively short existence.
The combined terms "applied" and "kinesiology" describe the basis of this system, which is the use of manual muscle testing to evaluate body function through the dynamics of the musculoskeletal system. Treatments may involve specific joint manipulation or mobilization, various myofascial therapies, cranial techniques, meridian and acupuncture skills, clinical nutrition, dietary management, counseling skills, evaluating environmental irritants and various reflex procedures.
The triad of health lists the three basic causes of health problems. They are structural, chemical, and mental, with structure as the base of the triad. Literally, all health problems, whether functional or pathological, are involved with one part or all parts of the triad. This is not new to chiropractic, as its founder, D.D. Palmer states in his text, "The Science, Art, and Philosophy of Chiropractic," "The determining causes of disease are traumatism, poison and autosuggestion." AK enables the doctor to evaluate the triad's functional balance and direct therapy toward the imbalanced side or sides.
The physician who is aware of the triad of health, and evaluates every patient for all three sides, increases his ability to find the basic underlying cause of a patient´s health problem. AK skills are developed and approved by the International College of Applied Kinesiology Board of Standards.
These skills are refined from many disciplines including Chiropractic, Osteopathy, Medicine, Dentistry, Acupuncture, Biochemistry, Psychology, Homeopathy, and Naturopathy etc. Members of these professions share knowledge through the publications and conferences of the International College of Applied Kinesiology (ICAK).
---
Diversified
First, an analytical exam of your spine is performed. This can initially involve a case history and X-ray images of your spine.
Subsequent visits may include motion palpation, with the doctor feeling the spinal joints move as you turn and bend. Or, a leg check may be performed, to uncover an imbalance in the neck or lower spine.
With the malposition of one or more spinal bones identified, a specific manual thrust is administered. The direction, speed, depth and angle that are used is the result of years of experience, practice and a thorough understanding of spinal mechanics.
The energy delivered during the thrust may produce a slight "popping" sound from the shifting of gas and fluids in the joint. This sound may be interesting, but is not a guide as to the value or effectiveness of the adjustment.
While improving spinal biomechanics can reduce nervous system interferences, virtually all joints of the body can be adjusted to help restore proper range of motion.
---
NIMMO technique of myofascial deep tissue release
Myofascial therapy may be defined in several ways. Basically, it is the treatment of the myopathophysiologic (damaged muscle &/or tendon) component of the vertebral subluxation complex. It is also the treatment of trigger points, areas of increased neurologic (nerve) activity in muscle tissue, causing the secondary referral of pain with subsequent associated autonomic changes.

The pain attributed to myofascial dysfunction is usually a certain region such as the head, jaw, neck, upper-back, lower-back, buttock area, or limbs. A trigger point, often the cause of such pain, is always tender and palpably taut (tight and rigid to touch). This prevents full lengthening of the muscle and produces muscle weakening, altered proprioception, predictable referred pain patterns, and an objectively verifiable local twitch response during palpation (manual feeling from touch).
---
SOT (Sacral Occipital Technic)
Developed by a doctor with both Chiropractic and Osteopathic degrees, SOT is a whole body diagnostic and treatment methodology. Manipulation may include the cranial bones and extremities plus everything in between. Part of SOT is a technique called, CMRT. Chiropractic Manipulative Reflex Technique is the link between your bones and your organs. Your organs have the potential to cause subluxations (misalignment of the vertebrae) just as subluxations can cause organ dysfunction.
---
Spinal Decompression by simultaneous Flexion-Distraction
This is a non-surgical, doctor-controlled, hands-on spinal manipulation performed with the patient lying on our specially designed chiropractic table that permits the effective administration of flexion-distraction and decompression adjustment and manipulation of your spinal segments.
Well researched and documented, flexion-distraction spinal decompression relieves spinal pain and returns patients to their desired quality of life!
Our goal is to help the spinal pain patient go from "
pain
" to "
no pain
" as quickly as possible with proper visit frequency management.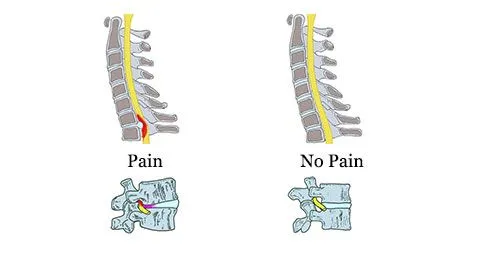 ---
This evidence-based procedure is appropriate for conditions causing low back and leg pain as well as neck and arm pain. It also reduces pain attributable to …
dropping intradiscal pressure to as low as -192mm Hg
widening the spinal canal foraminal area by 28%
reducing pressure on the spinal nerves
returning motion to the spinal joints
disc herniation
a slipped disc
a ruptured disc
facet syndrome
stenosis
spondylolisthesis
other conditions
---
Thompson
This technique is both a system of chiropractic analysis and a way to minimize the amount of energy needed to adjust the spine using a special table with drop-away sections.
The Thompson Technique, developed by Dr. J. Clay Thompson, has evolved into a system of analysis and a way of adjusting the full spine. The combination produces precise adjustments and high levels of patient comfort.
A System of Analysis
Early chiropractors noticed that vertebral subluxation complexes would produce the appearance of a short, or contracted leg. Using a protocol of comparing leg lengths while the patient turned their head, helped determine whether the vertebral subluxation complex was in the upper, middle or lower back.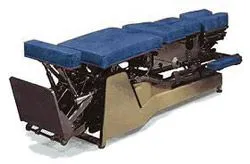 After gently lowering you to a prone position, individual drop pieces give way, reducing the amount of energy needed to adjust your spine.
Terminal Point Table
What patients often notice first is our segmental "drop" table. After stepping onto the platform, the table gently lowers you into a horizontal position. This helps preserve any leg length inequality.
Individual cushions or "drop pieces" located along our table surface support each area of your spine until the thrust is delivered. Then, each drop piece gently gives way, reducing the amount of energy needed to move a specific spinal segment.